Maintaining written fall protection and rescue procedures not only protects workers from falls but also protects management from charges of incompetence. Having individual workers or supervisors decide when fall protection is required and what kinds of fall protection equipment to use is an acceptable practice only where workers are routinely exposed to simple fall hazards, like homebuilders on a roof. However, when workers are involved in lots of non-routine tasks at different work sites, safety is enhanced if management puts into writing the fall protection and rescue procedures that employees are required to use.
Addressing Unique Fall Hazards
Some fall hazards are so unique that and organization needs expert advice on how to safely tackle a particular job. Written work procedures can also be important in distinguishing between acceptable and unacceptable fall arrest anchors. For infrequent tasks, workers may simply forget which kind of fall protection equipment should be used for the work. Written work procedures can enhance safety in all these cases.
Procedure Development Step-By-Step
Gravitec has helped many of our larger clients write work procedures for their employees. We usually start with a site survey during which we identify all the tasks where fall protection is required. We then rank the tasks on a relative risk scale so that our clients can direct manpower and investments to the most hazardous situations. Next we identify those fall hazards that can be eliminated by using alternative work methods or traditional fall protection methods such as guardrails. For the fall hazards that cannot be avoided, we choose, often in consultation with our clients, one or more acceptable fall protection methods for each unique work situation. We then prepare a document that gives step-by-step procedures for each acceptable method. We include a list of the equipment needed to do each job safely. The work procedures we draft always meet all government regulations. They are also graphically-oriented and easy to understand.
Providing for Rescue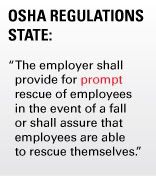 Our written work procedures often include a rescue plan for each job situation because employers have a legal duty to provide for rescue of their employees. The Occupational Safety and Health Administration's (OSHA) regulations state: "The employer shall provide for prompt rescue of employees in the event of a fall or shall assure that employees are able to rescue themselves."

Sometimes organizations can rely upon firefighters and other emergency service providers for rescue. However, response time in rural areas can be a problem. More and more, employers are realizing that in-house staff, when properly trained, can quickly and safely perform basic rescues. As a result, some organizations now empower their employees to use one or more basic rescue methods in emergencies. When our client authorizes rescues, we can design a good rescue system and describe the proper procedures in detail. We strive for procedures that require a minimum specialized knowledge and equipment.
Training Your Workforce
Virtually all of our clients who ask us to write fall protection procedures also use our skilled trainers to educate their workforce about the methods we have specified.